Science is a social organism.
Kids always ask themselves, "Well what does this have to do with me?" For middle schoolers, it goes a step further where kids don't just ask what's in it for them, but how does society perceive what science should mean to them. Facilitation of peer collaboration is an important aspect of the social-emotional component to scientific inquiry. Students are often afraid to share their ideas based on what others might say or think in response. Best practices tells us to establish a culture of learning that supports collaboration, scientific argumentation, and a climate of mutual respect between peers. If you've ever been around a middle schooler you might be thinking of some pretty hilarious memes right now.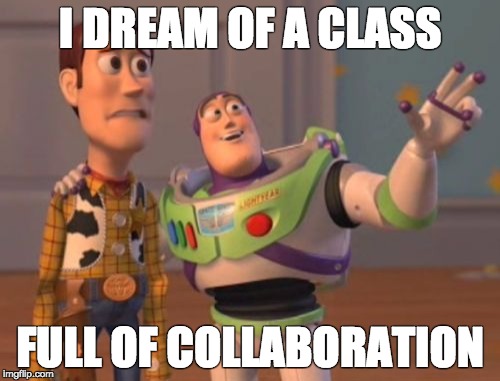 The new buzzword in science education and the Next Generation Science Standards is "Talk Moves".  Regardless of what we call it: scientific argumentation, collaborative talk, talk moves…as educators, we recognize that the advancement of science relies on collaboration and peer review.  Students should internalize these skills in order to be successful members of society.  These skills also transfer to other content areas and ultimately to life (Millstone, 2010).  When I observe my students interacting, I try to find the balance of guidance, exploration, and engagement to help facilitate group collaboration and collaborative work.
Lately I have been considering how technology can help with the engagement piece.  In Richard Culatta's TED Talk he discusses how technology must enhance the content in a way that is revolutionary.  We cannot just repackage old techniques into a new technological form.  We must transform the way we present information to students.  If we are trying to prepare students for jobs that do not even exist yet, we must focus on essential skills that allow students to become innovators.  Since middle schoolers are highly social creatures (even when they're anti-social, they are still immersed in social culture) we must consider this a key component of engagement.
Maker education provides opportunities for these social interactions since the goal is to collaborate, create, and share.  In CEP 811 we read about how Vygotsky studied dialectical constructivism and how language and knowledge acquisition is dependent on social context (O'Donnell, 2012).  Similarly, Christine Chin aims to make this connection to how teachers facilitate classroom interaction and discourse (Chin, 2006).  Both Millstone and Chin discuss how new methods of discussion facilitation move past the classic I-R-E model and provide opportunity to enhance and deepen discussion.
Our district is focusing on using Talk Moves to enhance classroom discussion.  We're expected to come to our next meeting with a set of norms established with the students.  The Chin research focused specifically on teacher interaction and facilitation.  The data collected show how feedback to students during discussions can help push discussions further, increasing content knowledge retention and application to new settings.  The Millstone research reflects that guided inquiry with effective teacher facilitation has been shown to deepen student understanding.  The Next Generation Science and Engineering Practices show that effective instruction is more crucial now than ever.
As I tried to come up with a creative use for my LittleBits project (see Astroman) I really could have used a collaborative group.  I work well individually most of the time, but there are definitely times I appreciate a group strategy.  The search for strategies in the classroom continues, not only because I don't want to become complacent in my instruction and science is constantly changing.  We must adapt to keep up with this progression.  The next steps in my learning progression will focus on strategies I can use to engage all of the learners in my classroom.  While producers of curriculum units are moving toward aligning with the NGSS, I will keep looking for strategies to incorporate into my current units.
---
References
Chin, C. (2006) Classroom Interaction in Science: Teacher questioning and feedback to students' responses, International Journal of Science Education, 28:11, 1315-1346, DOI: 10.1080/09500690600621100
Culatta, R. (2013, January 10). Watch "Reimagining Learning: Richard Culatta at TEDxBeaconStreet" Video at TEDxTalks. Retrieved November 9, 2015.
Millstone, R. D. (2010). Optimizing the orchestration of resemiotization with teacher "talk moves": A model of guided-inquiry instruction in middle school science (Order No. 3402991). Available from ProQuest Dissertations & Theses A&I: Science & Technology; ProQuest Dissertations & Theses A&I: Social Sciences; ProQuest Dissertations & Theses Global: Science & Technology; ProQuest Dissertations & Theses Global: Social Sciences. (305188208). Retrieved from http://ezproxy.msu.edu.proxy2.cl.msu.edu/login?url=http://search.proquest.com.proxy2.cl.msu.edu/docview/305188208?accountid=12598
O'Donnell, A. (2012). Constructivism. In APA Educational Psychology Handbook: Vol. 1. Theories, Constructs, and Critical Issues. K. R. Harris, S. Graham, and T. Urdan (Editors-in-Chief). Washgington, DC: American Psychological Association. DOI: 10.1037/13273-003.